The 11th January is National Milk Day and it has got us thinking about free school milk for children.
Free school milk first started back in 1944 as part of the Education Act to help improve children's health and has continued to be a hot topic since.
All schools are legally required to have milk available during break or lunchtime. Free school milk is available to under-fives and to other year groups who are also entitled to certain benefits.
Margaret Thatcher was dubbed 'the milk snatcher' when she tried to end the free milk scheme. David Cameron faced a similar backlash during his time as prime minister when there was talk free school milk may be abandoned yet again.
There has also been recent discussion around whether milk is really necessary for children's health and speculation that it may be contributing to the childhood obesity crisis instead.
Milk is a great source of protein and calcium – two major building blocks to healthy growth during childhood. Without adequate calcium, children can develop diseases like osteoporosis which causes bones to become brittle and break easily.
Calcium is particularly important for children who have coeliac disease or gluten intolerance as they are more susceptible to osteoporosis.
Does milk increase the risk of obesity later in life?
Currently, over 9% of reception year children in the UK are obese. For year 6's the prevalence increases to over 20%. The figures are scary, and scientists are calling it a pandemic.
There have been some claims that the protein content in cows' milk will increase the child's risk of being obese later in life.
It is also commonly believed that whole fat milk is worse for children than reduced fat milk.
What does the science have to say?
In 2018, a review of all research into milk and obesity found that there is not enough evidence to support these claims. Children who drink milk are at no greater risk of obesity. In fact some studies have shown they tend to have better diets overall.
The review also found no significant difference in the type of milk on obesity risk. Whole fat milk naturally has more fat-soluble vitamins than skimmed milk. But will not contribute to the child's risk of developing obesity later in life.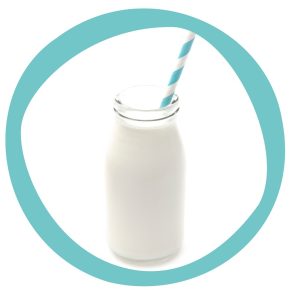 Giving children milk is an easy, affordable way for them to get many nutrients they need for growth and development.
If children just don't like drinking it, here are some other ways to get milk in their diet:
Make a banana cake – you can use up all those brown looking bananas!
You can use it to cook chicken! 
Use milk to make pancakes!