The Tucasi team is fortunate to have many long-serving members who carry with them a wealth of product knowledge, understanding of the education sector and experience in helping schools improve their administration processes.
Two Tucasi team leaders are celebrating milestone anniversaries with the company. Terry Brown, Head of Sales & Marketing, has reached fifteen years' service. Meanwhile Barbara Wall, Head of Professional Services & Operations, is celebrating ten years at Tucasi.
To mark the occasion, we sat down with Terry and Barbara to talk about how they got started, what's changed over the years, and the highlights of their time so far at Tucasi:
First job title with Tucasi
Terry started as an Account Manager.
Barbara started as a Professional Services Trainer.
For Terry, there are so many: "From the staff get togethers which we have had over the years, giving everyone the opportunity to get to know each other better, to some of the various excellent feedback we have received from our customers."
Barbara recalls, "When I first started, I came to Eastleigh for three weeks to work on support. After my first day I was asked if I wanted to go for a beer; everyone was really friendly and helped me through three weeks away from home."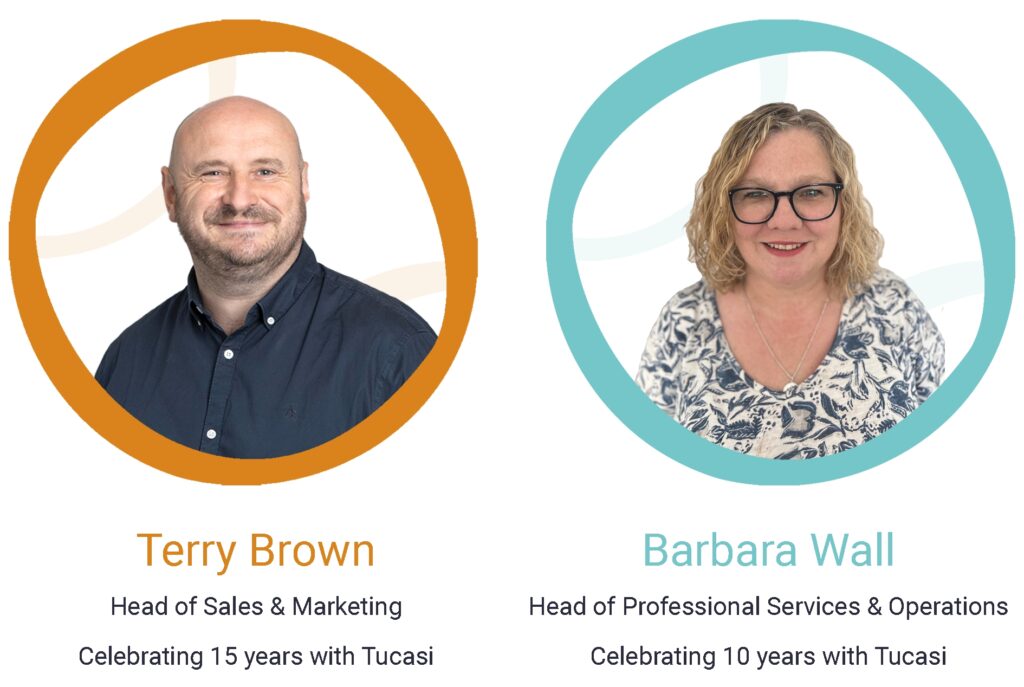 Favourite part of the job
Terry enjoys "Working with so many great colleagues that are all committed to doing a great job to benefit our customers."
Barbara loves speaking to schools: "I really enjoy discovering how they use our software and how it has a positive impact on their working day."
Greatest changes since starting at Tucasi
Terry reflects, "There have been so many changes over the last fifteen years, but I suppose the most notable is the flexible remote working that we now offer, post-COVID. Previously, many staff members were office-based, and this has now changed significantly, which offers staff a great work/life balance."
For Barbara: "There have been lots of changes to our products and operations. As a software company we need to make sure that we are keeping up with legislation changes and are able to offer our customers the best service and product."
Proudest work accomplishment so far
Terry says, "My proudest accomplishment was being promoted to Head of Sales. This allows me to work with my colleagues across the company so that we can offer an excellent service to our customers."
Barbara is proud of the team she leads: "I'm very lucky to have great staff working around me, so I would say my staff. They work well as a team as well as independently, they are always willing to help others wherever they can, and we have a great team spirit which makes work a great place to be."
Why Tucasi is such a great place to work
Positive work culture is the key for Terry: "Tucasi really cares about their employees and customers which is so refreshing."
For Barbara, it's an easy answer: "The people! You spend most of your life with the people that you work with, it's important that you enjoy their company, are able to get on together and feel appreciated by your peers and management."
The most interesting things they've learned
Terry has learned so much whilst working for Tucasi, "One of those things is just how important it is for various teams to work effectively together. Ultimately that produces the best outcomes."
Barbara can't choose just one thing: "I have learnt so much from so many people. Each person you meet has something that they can share to help you."
Best advice for new team members
Terry says new recruits shouldn't be afraid to ask questions, "Everyone at Tucasi is really helpful; the more questions you ask the more you will learn and enjoy your role."
Barbara agrees: "When learning, it's important to remember that there are no stupid questions, if it's something you don't understand, just ask!"